You Are Loved Beyond Measure
Happy Valentine's Day!
This is one of my favorite days of the year, as it is a day dedicated to expressing love. 
So, on this day of love, I want to remind you of 2 things.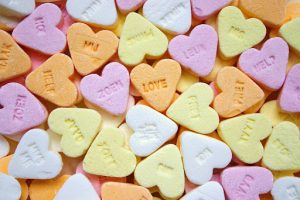 First, you are a gift! 
Just who you are is a gift. There is nothing you need to do to earn life or prove you are worthy of good things. Just the fact that you are breathing is  evidence that Infinite Intelligence wanted you here to experience life and express your amazing magnificence. 
Second, you have been given a precious, indescribable gift, which is  your ability to create. 
Every single one of us has been given this unprecedented gift of the ability to literally create our world. Here's the thing, we are always using this gift, but so few people really understand how to use their creative capacity intentionally to create the life they love.  
On this Valentine's Day, take a moment and really ponder this profound gift we have all been given in our ability to create intentionally. 
When you realize that you are a gift and you have been given this gift of creative expression, then you can see that the greatest gift you can give back to Life and our world is to use your creative capacity to create a life you love. Creating a life we love is the most powerful way we can say thank you to Life Force energy and bring our goodness to those around us.  
When we dedicate ourselves to creating lives we love, it is our way of loving our world back.
This Valentine's Day, I encourage you to really see yourself as this amazing gift to everyone you come into contact with. Accept the gift of creation and pledge with your hand on your heart that you will dedicate yourself to using your creative capacity to create a life you love knowing this is your highest gift to our world.  
Here's to your dream,
Felicia 
P.S. If you are ready to live the life you love, then join me, Feb. 24-26 for my 3-day transformational event, Your Ultimate Life Now! The Virtual Event. During these 3 days, I will walk you through a formula on how to use your amazing creative capacity. Register here and use the code FF2022 for a discounted price as a  valued member of this community.