What to Do With a "Bad" Day
Recently, I had a day. You know, one of those kinds of days where you just seem to be watching the clock wondering if you should just go to bed early in order to be done with it. It was one of those kinds of days that could have led me down a very dark hole if I let it.
I am grateful for the years of spiritual training that helped me switch it. What was my secret sauce?
Gratitude!
That may sound cliche, but gratitude is the most powerful energy we can generate. We have such an amazing gift in the fact that we can actually choose gratitude in any given moment, no matter what may be going on in our world.
There are several different ways to facilitate gratitude.
One is simply to count your blessings. Look around to see all of the amazingness that you do have in your life. When I looked at this day in the context of my amazing life, it cause me to be so humble in the presence of it.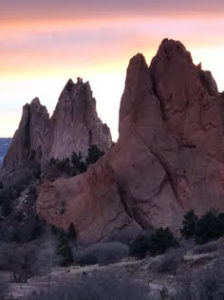 Another is to foster a sense of awe and inspiration. I happened to be in Colorado on this day. So, I took a few minutes to go hike in an amazing park called The Garden of the Gods with breathtaking rock formations 300 million years old. When you put yourself in the presence of something so profound such as this, it radically reduces the magnitude the size of any perceived difficulty.
Finally, a powerful way to generate gratitude is simply by breathing. Remember, you can't even take one breath on your own. When you become aware of the power and presence of your breath and realize that something so indescribably powerful is breathing you, it literally dissolves any disappointment or discouragement you may be experiencing.
As we continue this journey of gratitude during the month of November, remember that gratitude is available to us at all times, no matter the circumstance or condition. You have at your fingertips the power to change you simply by causing yourself to be grateful. As you do this, watch how your whole world changes right before your eyes.
Here's to your dream,
Felicia
P.S. Please share this with anyone you know who has a difficult day from time to time.