The Power of the Darkness
Happy Winter Solstice! Tonight marks the shortest day of the year. Translation-it is the longest and darkest night of the year.

Traditions across the planet celebrate this day because it means that the light is returning.

I encourage all of us to not be so eager to dismiss the dark. When things are dark, it is so much easier to be still. When you are still, you are able to hear things at a deeper, more subtle level. You are not distracted by the things that you see with your eyes.

There is so much power in allowing yourself this time in the dark. This is the time to listen deeply!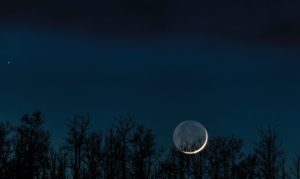 So, what are you listening for?
Listen for what brings your heart alive. Listen to the voice of your desire longing to inform you of what's next for you. As you ask the most powerful question that you can ask, "What would I love?" you enter into a holy conversation with the Divine. Listen for that!
Listen for the voice of love seeking to make Itself known in you and gets drowned out by the daily noise and distraction. Listen to what Love longs for you to know for you and about you. Feel yourself be enveloped by love knowing that this power is your true source and supply. Know yourself cherished and nourished. Listen for that!
Listen for the voice that tells you, "Job well done!" So often, we just hear the voice of self criticism of where we got it wrong. This voice can be especially loud in the dark. This is the time to go deeper, and let the voice that truly knows you and your magnificence speak. Listen for that still voice underneath all of the doubt and shame that is constantly reminding you of just what a remarkable being you are. Listen for that!
Then, as you emerge from the dark, into the light, let these voices be your guiding light. Let these voices be what guides you on your path in the light of day. Remember that these voices are available to you anytime you are willing to be still, enter the dark and just listen.
I encourage you to invest some time today being still and listening for each one of these elements. Do some journaling on what you hear so you can carry it with you in the light of day.
Share your contemplations on our Facebook page so we can all be inspired to listen deeply to our own voice of inspired insight.
Here's to you and your dream,
Felicia
P.S. SAVE THE DATE! Join us April 2-4 in Costa Mesa, CA for "Your Ultimate Life Now, Live!" event where you will learn the code to build a life of your dreams. Watch your email for more info.