Take a Page from Daisy's Playbook
Let me introduce you to Daisy. Daisy is my lab/hound mix.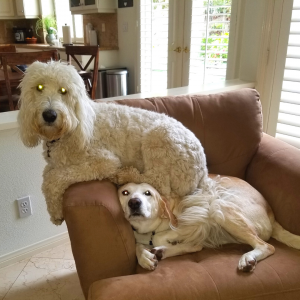 She is a comfort seeking missile. 
It doesn't matter where she is, she will find the squishiest, most comfortable spot available. It does not matter if you are sitting in it or not. She will take her 75 pound loveable body and root you out. 
This is the most infuriating thing and endearing thing about her. (Well, maybe the fact that she rains hair everywhere she goes may be the most aggravating thing about her, but we love her.)
Daisy is an inspiration to me, because she does not settle for anything less than what she wants. 
It causes me to ask, all of us, where do we settle for less than what we know we want or deserve.
See, you are a Divine Child of Infinite Intelligence worthy of all good things. Life does not ask you to settle. 
In fact, Life Force Energy longs to express in bigger bolder ways through your desire to make impact with your dream. 
Life Force Energy asks you to know what you want and to work a Spiritual Success System to bring it into existence. 
We all have the ability and capability to create the impact and life that we all long for. 
So, ask yourself, what is it that you would really love and where are you settling? Take a page out of Daisy's playbook and claim your spot.
Here's to making your impact with your dream,
Felicia "Loving Daisy" Searcy 
P.S. Ready to claim your spot to multiply your impact? Join me for my next masterclass, "The Ultimate Impact Multiplier Masterclass" where I will walk you through the spiritual blueprint to profoundly multiply your impact as you live your dream! Register here: https://feliciasearcy.com/impact2022/