How to stop living in a tiny world
Back in the early 60's the United States received a beautiful gift in the form of a rare white tiger named Mohini. People would go to the National Zoo to  watch this gorgeous majestic animal in a tiny containment. She lived in a 12 x 12 enclosure.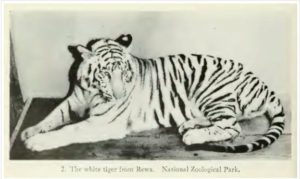 A couple of years into her captivity, John Kluge, a billionaire, came to her rescue and paid to have a beautiful, expansive enclosure built for her.
The day came when Mohini was to be released into her beautiful new home. When the gates of her enclosure were lifted, Mohini went straight to the edge of her new home and staked out a 12×12 area and never left it for the remainder of her life.
This is what happens in our thinking. We have experiences. We make meaning out of those experiences and consequently, our world is then  reduced to those perceptions. So many people I see are living in a tiny version of what's really possible for them. The majesty of the world is available to all of us, yet, if we do not work to expand our container, we will never be able to enjoy it.
This is why dreaming is so important. Learning to live from the question, "What would I love?" is your version of increasing your own container. When you really listen deeply to hear what your heart wants for you and you let yourself really begin to see it as a possibility, you begin to feel the walls of your current container expand.
Now, you can't stop there. There is more for you to do. Yet, this question is the starting place for all that is.
Work with this question this week.
Let yourself push the bounds of your current container by living into the question, "What would I love?"
Let the voice of Love increase the size of your life knowing that as you do, not only are you blessed, but truly this is how you bring a blessing to everyone around you.
Here's to your dream and Mohini,
-Felicia
P.S. Your Ultimate Life Now! Live! is officially sold out. Watch your emails for the "Save the Date" announcement for our next event in the spring and make sure you register early!