Don't Quit!
I love to mountain bike. I love being outside in the beauty of nature and challenging myself to navigate the difficult terrain of an off-road trail.
One of the things I have learned is that when you get to a hill, you CAN'T QUIT!!!!!
If you quit, you are dead in the water. (Mixing metaphors, I know)
If you quit on a hill, you have to get off of your bike to walk it up the hill, if you can get traction to do that. Most of the time, you find yourself rolling backwards until you are at the bottom of the hill having to start over.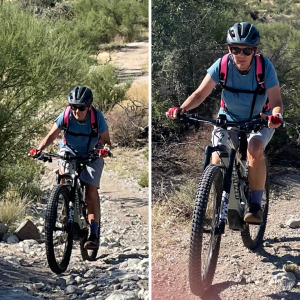 When you are climbing and navigating the rocks and crevices and rocks, there is this visceral reflex to slow down.
This is the time to LEAN IN and commit to that hill even more. It takes every ounce of strength, courage, confidence, and commitment to stay on the bike and to keep pedaling forward.
I share this with you because this is much like the process of your dream.
Remember, the purpose of your dream is to help you discover amazing things about yourself. It is here to help you grow, develop, and increase your skill and capacities.
So, there will be times, lots of times, where it feels like you are on a very steep hill and all you want to do is to slow down or stop altogether.
It is at those times when your dream is asking you to lean into the hill, to discover even more of your strength, creativity, and grit so you will stay with it and get to the top where the view is waiting for you.
As you do, not only do you get to reap the benefits of your hard work, but you get to be in awe of who you have become and how you showed up.
And that is worth celebrating.
Here's to your hill!
Felicia
P.S. We still have a few spots left in our virtual event, "Your Ultimate Life Now, The Virtual Event!" starting this Thursday, Oct 21. I would love to have you join us to allow me to help you lean into those hills so you can keep going with building your dream. Register here to claim your spot.