Does Your Dream Seem Impossible?
Hi,
Just because you have a dream doesn't necessarily mean you are going to achieve it. I know that may sound harsh, but your dream requires care and action. But, it can be done and you have everything you need to achieve it.
My cat is a perfect example of something that looked hopeless in the beginning. When we got Louie, he literally weighed 6 oz. He was matted, sickly and not eating very well. But, I fell in love with this tiny lump of fur and dedicated the time and energy to pouring life into him. As a result, he is a healthy 16 pound mature cat who pretty much rules the roost.
This is what your dream requires. Regardless of where you are along the path of development, with commitment, care and consistent action, you can bring it from it beginning state no matter how far out of reach it may seem into the facts of you life.
Louie is living proof.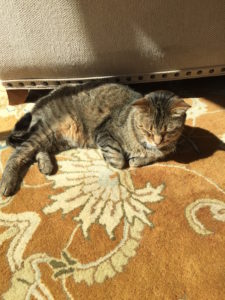 If you want help living your dream, join me Tuesday for my Facebook Live session where I will share real time information to help you live your dream.
Here is the recording from last week's session where I shared 3 Keys to Connect to your Intuition.
Here's to living your dream,
Felicia
P.S. Ready to catapult your dream? There are a few spots still available to attend my "Your Ultimate Life Now! Live" event in Torrance, CA Oct. 6-8! Click this link for more information and to grab your spot!