Together, let's make it your best year yet!
What if this was your best year to date? What would that be for you? What would it take? Who do you need to grow into in order to have this new level of success and well being? 
This is the time of year to consider those questions and more. Collectively, as a species, we agree on an ending and a beginning of the year and even the decade. It is an amazing time to take stock and set intentions, as this is the energy that is captivating our entire planet in this unique moment in time.
Here's a powerful process I developed for you to really set the stage for an amazing New Year and new decade.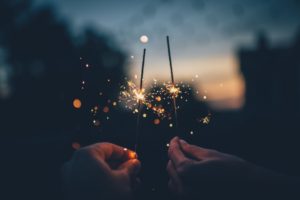 First, acknowledge your successes. What are you proud of? What did you do well this past year? Where did you show up even when it was hard and what did you learn from it? This will help you see just how amazing you are. Yes, there may be some things that you didn't achieve, but let's have you focus on your wins.
Then, bring all of that juiciness into your intention setting. Think about one or two things that you would love to accomplish this year NO MATTER WHAT!
On December 31, 2020, as you look back what are you so proud of? Clearly define that, and create a very clear picture for yourself in your mind's eye.
Then, to really ground this image and intention, journal these questions:
Why is this intention important? What does it mean to you if you achieve this dream this year?
Who do you need to become in order to grow into this level of success? What new Truth do you need to know and what skills do you need to grow and develop? This in your inward and outward work.
Then ask, how will you do this task? I am not suggesting that you create a full on plan, although you can certainly do that. Here's what is so amazing about achieving our dreams. Success usually comes with consistent application of just 2-3 core steps. It is usually much simpler than we make it.
So, consider what are the core few steps that you know that will lead you to success and the achievement of your dream year. Identify those steps and start scheduling them on your calendar.
I would love to hear your thoughts as you work this process.
Here's to your dream!
Felicia
P.S. Want rocket fuel on your dream? Join me in Costa Mesa, CA on April 3-5 for a truly transformational weekend, "Your Ultimate Life Now! Live." Watch your email for more information coming soon.